Halloween 2021 on Ballycross Farm 
We are happy to announce that we are opening for Halloween 2021 so you can bring all of your ghosts and goblins down to the farm for some family fun!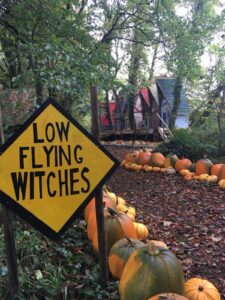 We have worked around the clock to make sure your visit to the farm is safer than ever. We have implemented a new entrance and exit, there are lots of handwashing facilities and sanitiser, all our picnic and dining tables are outside and we have widened our walkways.
Our Pumpkin Patch & Witches Village is open and we invite you to take a short walk to the Village, meet our resident Ballycross Witch, pick your pumpkin and take a tractor ride back to the farm. Our trailer has been fitted with screens so you can safely socially distance.
There is NO BOOKING NECESSARY
Opening Times 
Saturday 23rd October: 10am – 6pm
Sunday 24th October: 10am – 6pm
Bank Holiday Monday 25th October: 10am – 6pm
Tuesday 26th October: 12pm – 6pm 
Wednesday 27th October: 12pm – 6pm
Thursday 28th October: CLOSED
Friday 29th October: CLOSED
Saturday 30th October: 10am -6pm
Sunday 31st October: 10am – 6pm
*For children with additional needs, we are open at the earlier time of 10am – 12pm on Tuesday & Wednesday 26th & 27th October. Admission is free for the child plus 1 carer only. Please get in touch with us via Facebook so we know to expect you. 
Admission:
Admission includes tractor & trailer ride back to the farm:
Child €5.50
Adult €6.50
Family (2+3) €26
Family (2+2) €22
OAP: €5.50
Pumpkin prices vary by size
Food & Drink:
Our new Ballycross Cafè will be open so you can enjoy artisan sandwiches, soup, freshly baked cakes and our signature waffles & crepes. There will be the usual food stalls dotted around the courtyard including Jane Russell Hot Dogs, Chips, Richie Doyle Burgers, Scùp Gelato, tea & coffee and lots, lots more.
Things to buy:
Deck out your Halloween party table with lots of Ballycross goodies from Apple Juices, freshly picked apples (for bobbing for apples) and decorate your house with every size pumpkin you can carry home.
Don't Forget:
To make the most of your day please dress warmly with waterproof clothing and bring your wellies, just in case! There's no such thing as a bad day in Ballycross if you are dressed appropriately! Kids are welcome to dress up in their Halloween outfits for their day out…parents too!